A Pooja or any other important festival is incomplete without an Aarti Thali. It is a way to convey our gestures of devotion to the Almighty. Aarti's Thali looks commendable once designed in the right manner. Each and every occasion or any other spiritual activity starts and ends with the Aarti. A Pooja or any other important festival is incomplete without an Aarti Thali. It is a way to convey our gestures of devotion to the Almighty. Aarti's Thali looks commendable once designed in the right manner. Each and every occasion or any other spiritual activity starts and ends with the Aarti. Here we have bought a list of all the amazing ideas for decorating the Aarti Thali in competition. Following these you will surely come out with flying colors in the competition:-
Green coloured sand Aarti Thali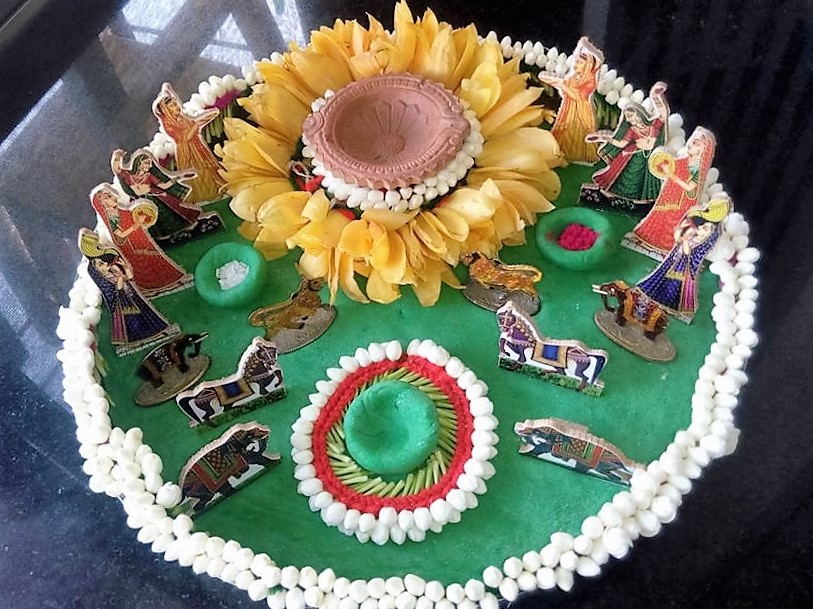 This Aarti Thali looks lavishing and wonderful by the use of the sand of Green colour as the base. Here, the use of Mogra Buds adds wonders to the Thali. The Mogra Buds are arranged in such a design that the Thali looks very beautiful as a whole. Make the designs by these buds and then put one teracotta pot in each of these designs containing all the essential components of Pooja. Keep a beautiful Diya in between along with the incense sticks stand.
Dry Fruits and Spices Aarti Thali
This Aarti Thali is way too unique and different from other decorative designs. Having a very simple and decent Diya stand in between, it is all round covered with a varied variety of spices and dry fruits. Each and every section in this Thali is divided with a beautiful usage of lace, threads and clay.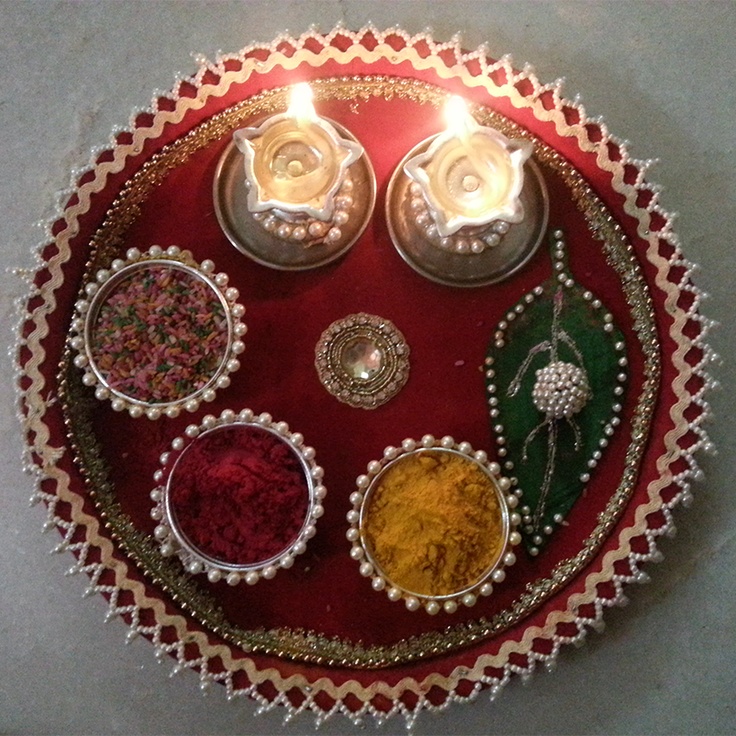 You can use this design to attract the maximum votes from the audience in your competition. The base of this Aarti Thali is made up of rice that is green in colour. What do you think is the reason behind the usage of rice? Rice indicates Prosperity. The central part in this Aarti Thali design has been filled up with a Swastik made red with the rangoli powder and the floral designs made by the Mogra Buds adding to its beauty.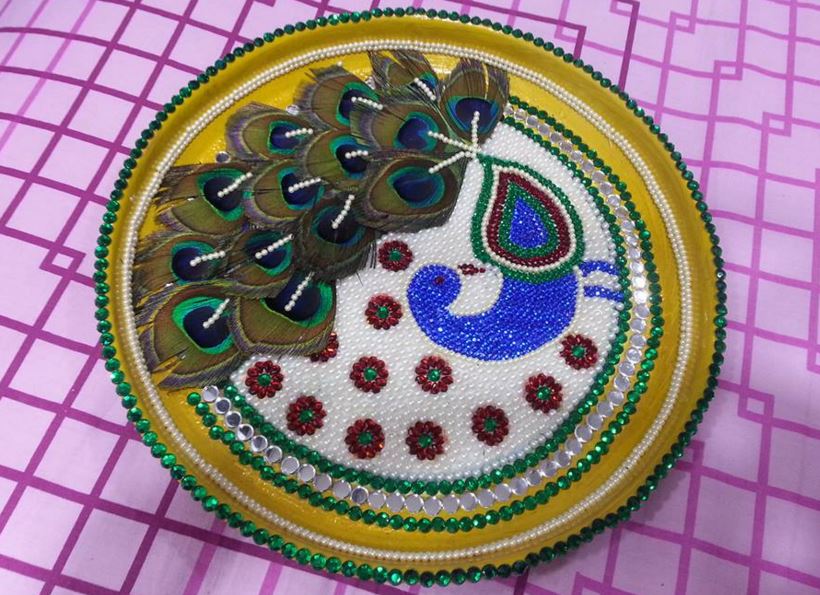 This is a very decent and a very beautiful design for the Aarti Thali Decoration. This whole concept and design is made with the help of various pulses of different colors. These make it look colorful and too appealing. The Ganesha made in between the pulses decoration looks marvellous and alluring here.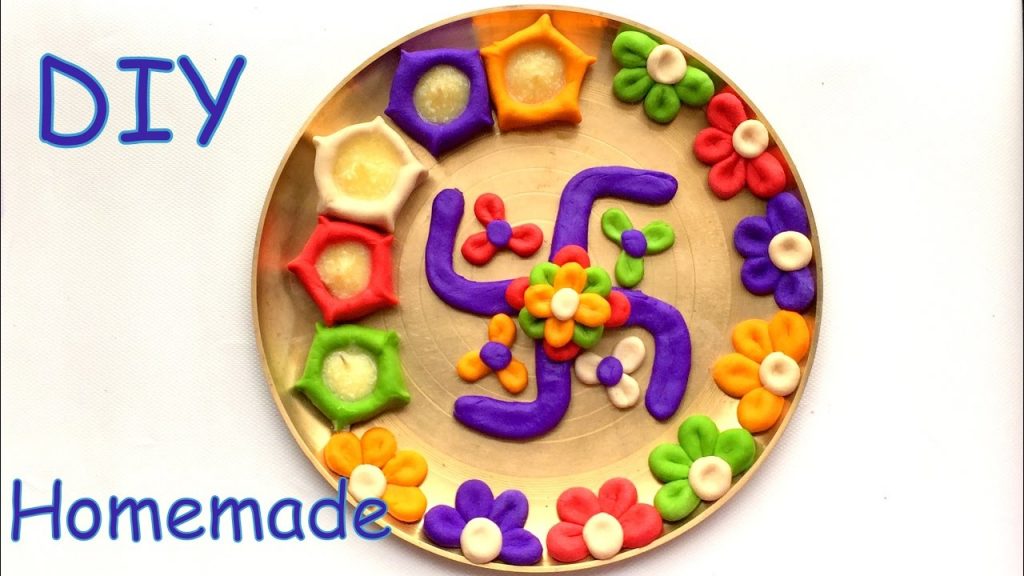 This unique design concept is the most commendable one. This is made up of dough. Not normal dough, instead the dough is made by mixing it with different colors and making the mixture to be used in the design. The Swastik in between the design is looking extraordinarily beautiful. The floral designs made on the border of this Aarti Thali have added crystals to its beauty.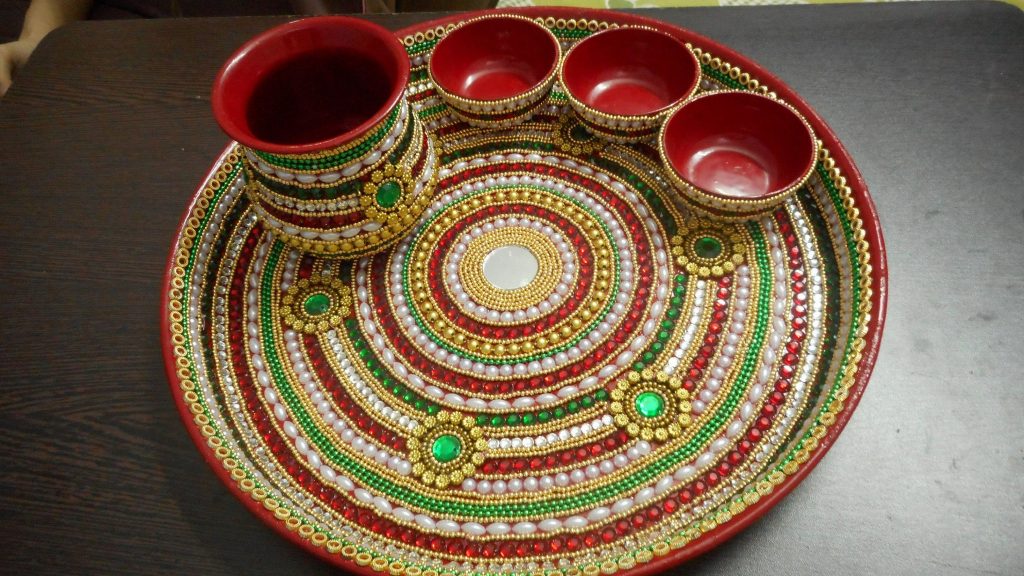 This is one of the best Aarti Thali Designs that you can make when taking part in any competition. This Star- shaped design in the Aarti Thali looks too royal. The whole design is made up of colourful beads. The circular Thali has star shaped grid made in the central part of the space with a beautiful and decent Diya in between. The floral designs in the border and separation of various sections with the help of laces and beads look wonderful.
Conclusion:
Hence, we truly want you to score a 100 on 100 in the competition by adopting any of the above best designs for the Aarti Thali. Your creativity is the main concern while decorating certain things. Using eco friendly products while decorating can be one of the major concerns of the competition you are taking part in. Good luck and win the competition.