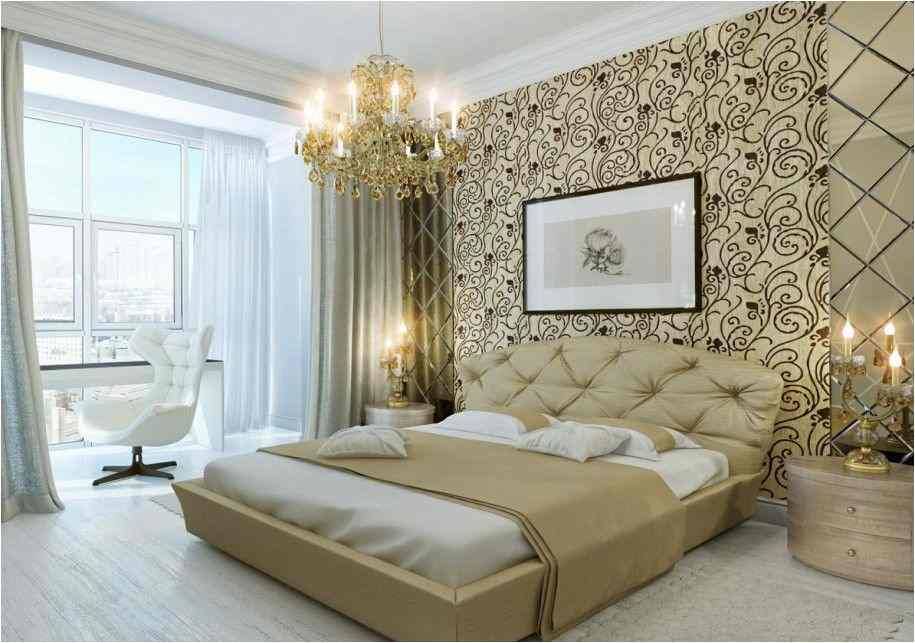 We've all heard of home décor ideas, starting with furnishing woods to picking the best paint for your home. We often overlook the concept of wallpapers, however, it may seem a tedious task, well when has ever home décor ideas been easy! Whether you're a paint person, who'd love some ombré or colour splash happening on the wall, and if you're a wallpaper person, you'd certainly would lean towards some of the unique texture, patterns, and colour to compliment your home. The whole concept is relatively new to the Eastern part of the world, the westerns have relatively been using wallpapers for ages, the stigma of having wallpapers are royalty. 
The whole spectrum of wallpaper décor ideas broadens up to each dedicated articles starting with Dinning room to Kitchen, and we are specifically focusing on bedroom wallpaper décor ideas. These ideas will transform your space into a contemporary bedroom by picking the right one to add modernity to your boudoir. The key element in choosing a palette and pattern that compliments your surroundings, is to dive deep into colour, texture, pattern, and focus of light. Some prefer bold and heavy texture, and while some prefer light with minimal patterns. Here are some of our handpicked wallpaper for bedroom décor ideas.
The Soothing Texture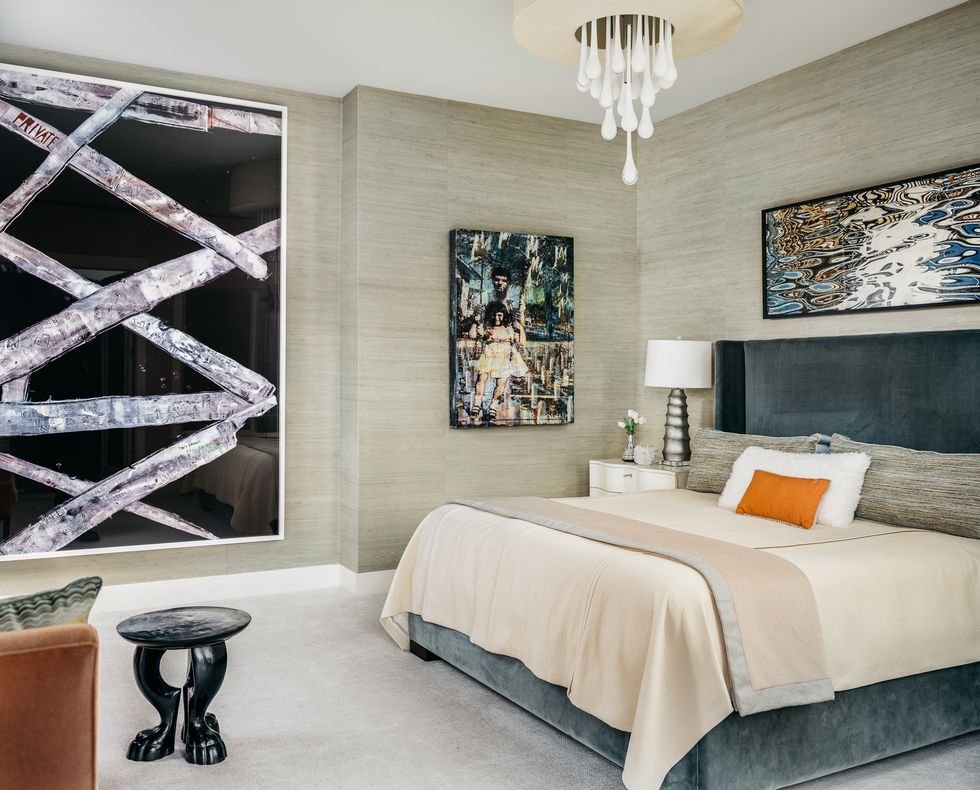 With a soothing texture, the grass cloth-covered walls ground a classic modern and contemporary bedroom with subtle texture. It's an understated canvas for bold art.
Bohemian Armada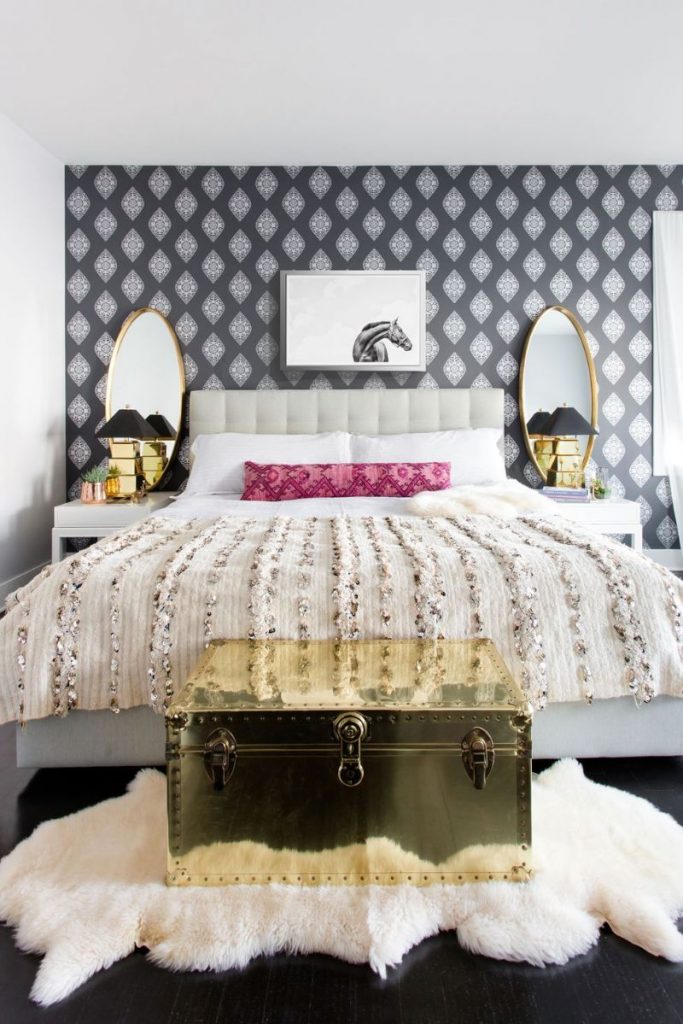 Bohemian elements make a master bedroom one of the most iconic and imposing bedroom design projects: if you are a true design-lover, you will fall in love with bohemian contemporary décor.
The Double Combo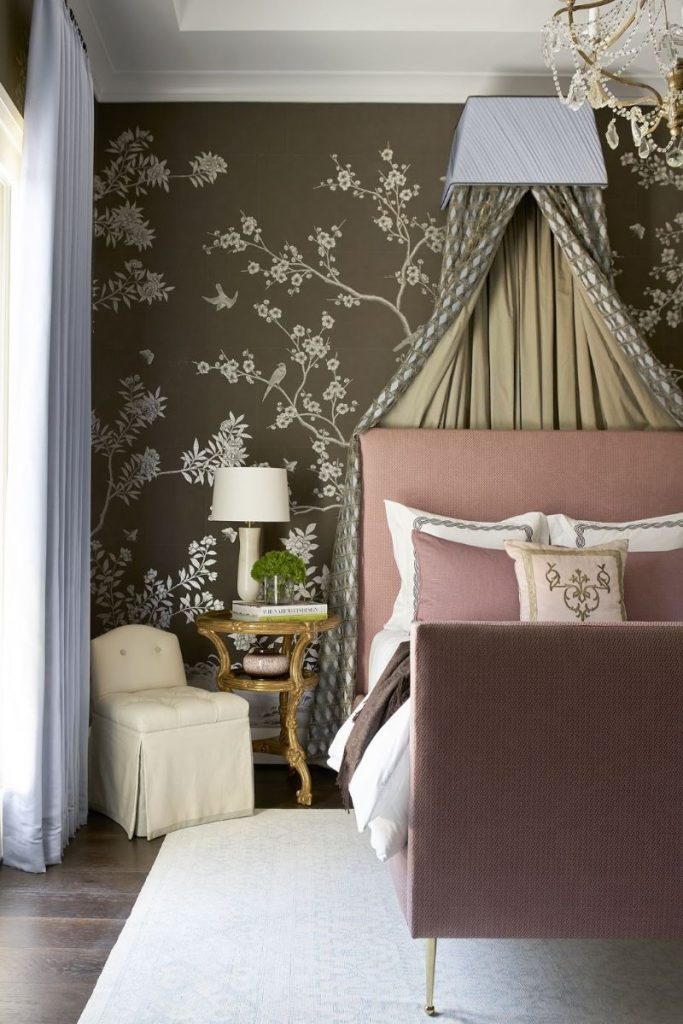 A classic combination of luxury furniture and unique design details featuring an ornate wallpaper that makes a statement inside a contemporary bedroom.
Botanical Garden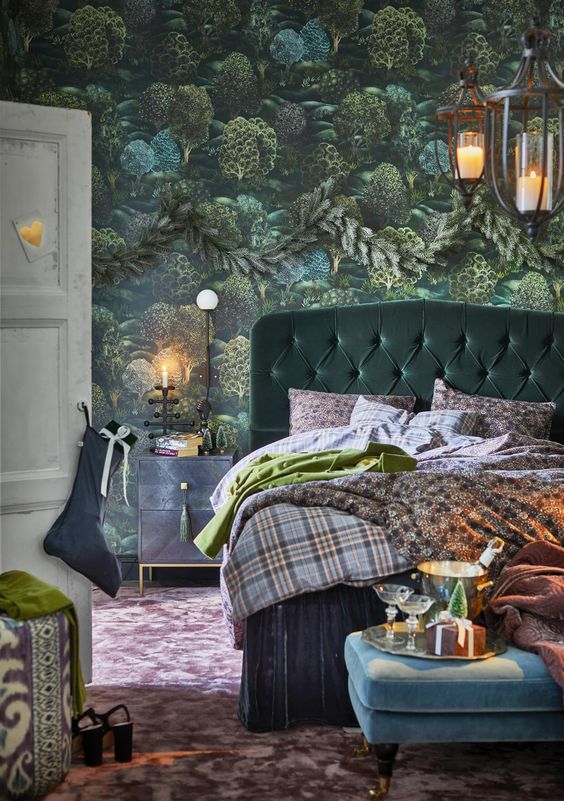 A busy floral in rich olive wallpaper emits warmth to a bedroom, presenting it less serious and more beautiful.
Bold Floral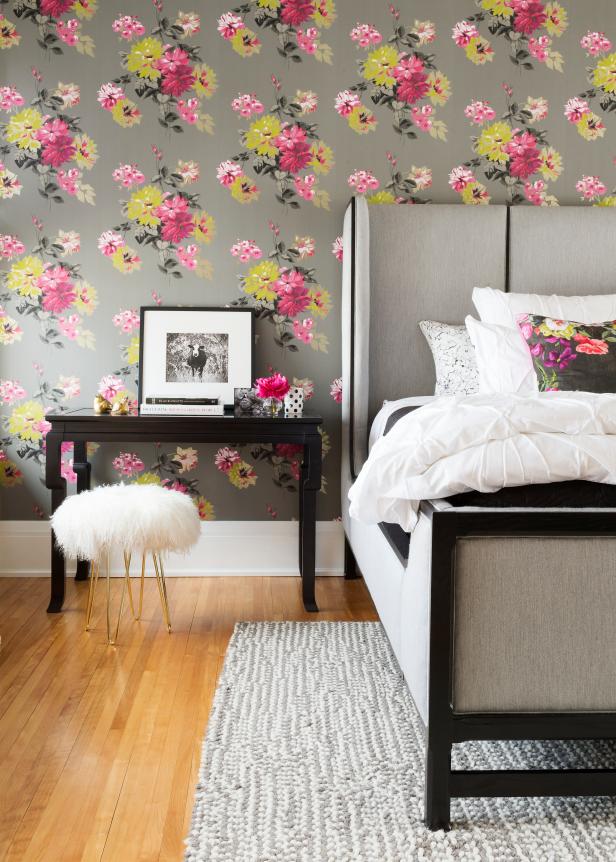 A warm, modern bedroom with a sepia-toned wallpaper and cantilevered table lamps will definitely do the charms, heavy sunk olive green and huge leaf patterns will give you Amazonian feels.
Monochromatic Drama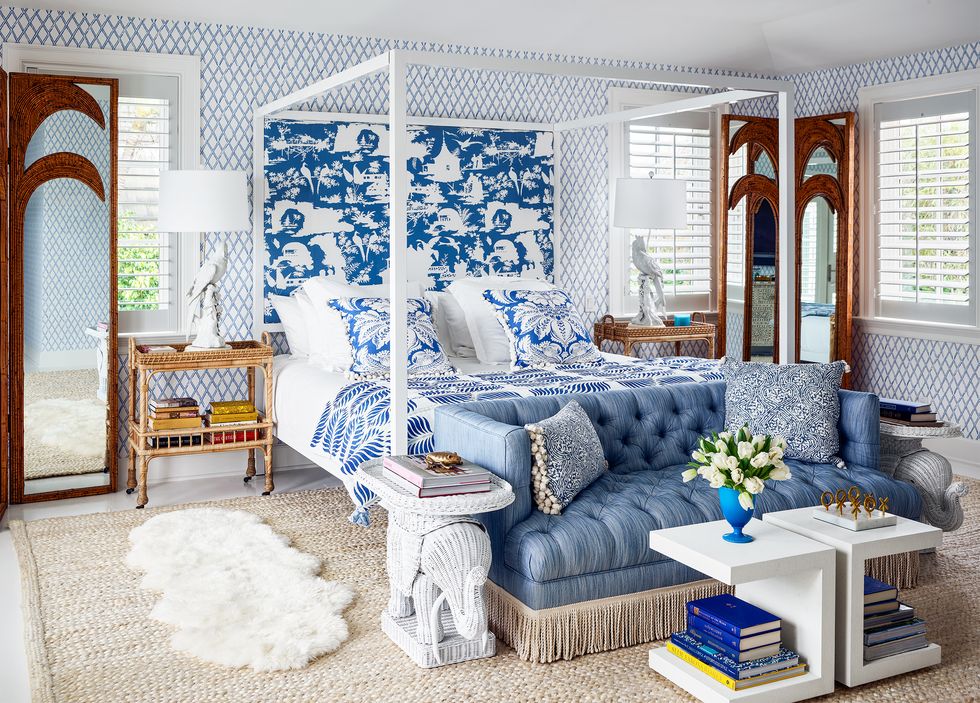 A tight lattice print is a great backdrop for an open toile headboard to any airy Palm Beach bedroom. The blue-on-blue palette is preppy and playful.
The Bright Bold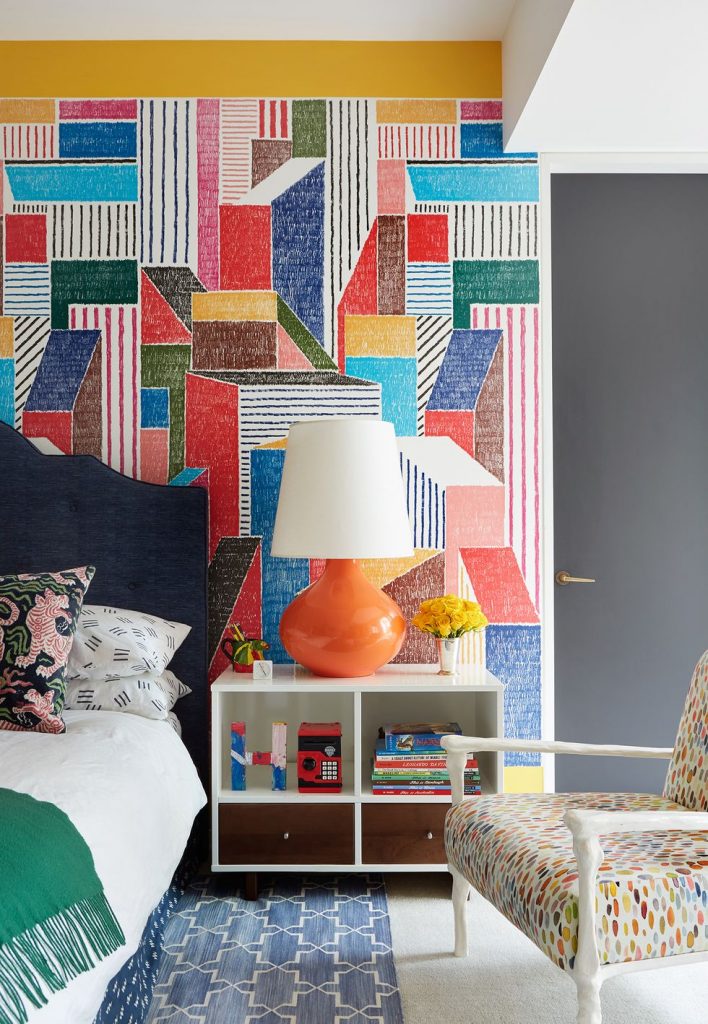 Punch up any room with bright and modern design. The mix of irregular stripes and geometric shapes have a hand-drawn look that make it suitable for kids and contemporary art loving adults alike. Such wallpaper elevates a playful room in any occasion.
Vibrant Standoff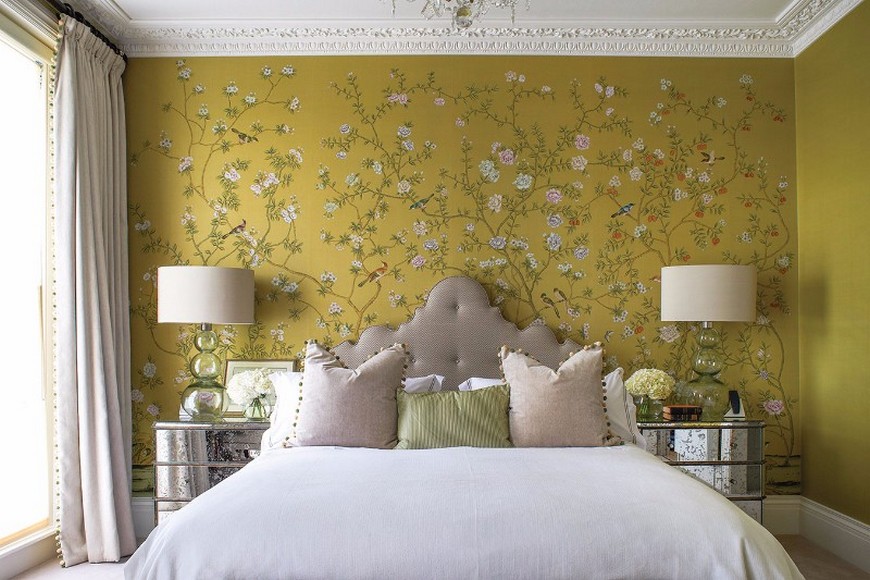 You could possibly never go wrong with vibrant texture and pattern, go all lavender if you will. A bold purple, or violet and even indigo would perfectly fit the scenario.
The Shining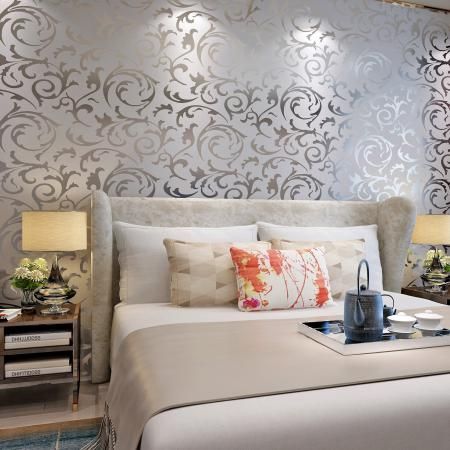 Bright and yet vibrant wallpaper to create a lightly iridescent wall that's perfectly paired with a custom mirrored chest.
Vertical Pattern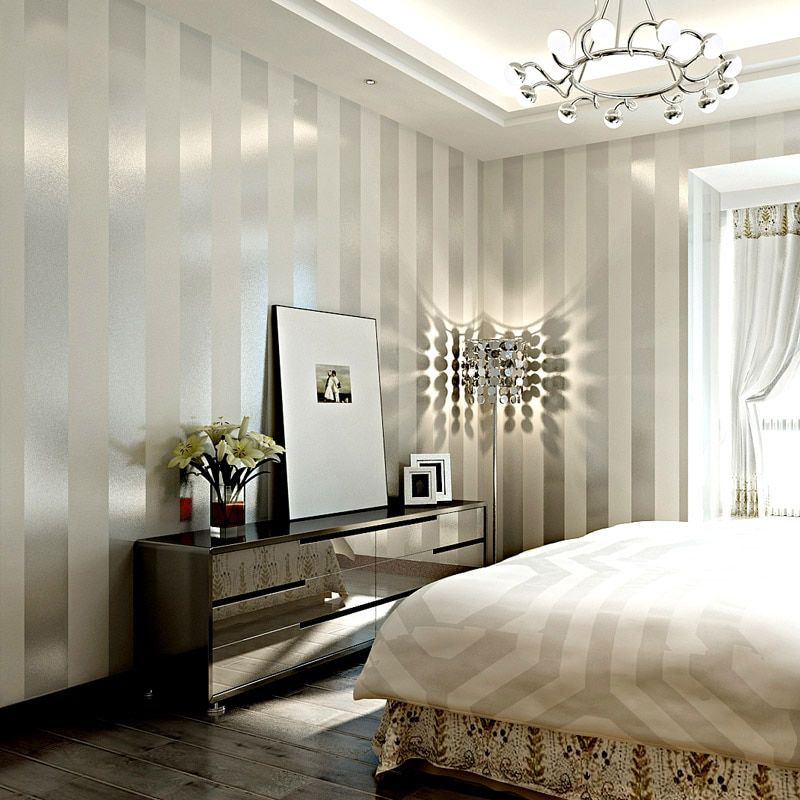 A striped wallpaper pattern makes all the difference by intensifying the space of a small bedroom.
Rich Damask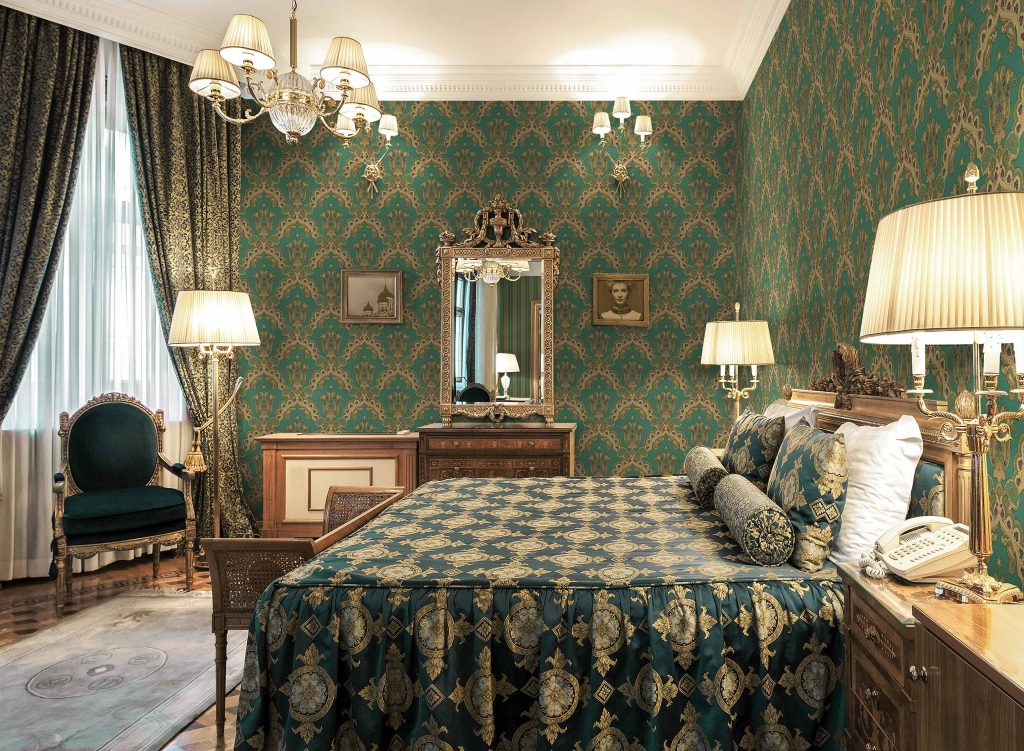 If you've ever followed the animated series of Mr.Bean very closely, an episode is solely dedicated to Mr.Bean looking for wallpaper décor options, and finally settling upon the Queen's grandeur royal pattern red dripping wallpaper for his bedroom, that's Rich Damask; the colour could differ from dark tinted brown to olive green with royal pattern.
To complete your bedroom with not just pasting a wallpaper, there's couple of accessories that go hand in hand, an exquisite nightstand features Boca do Lobo's core design traits would perfectly blend a mix of calmness and yet exuberant drama. From its classic legs to its sleek and clean lines, the Tower Nightstand's design is set on being timeless. Handcrafted and assembled by their experienced craftsmen, this luxurious nightstand features impeccable details, and multiple divisions, adding practicality and elegance to any contemporary bedroom.
We hope you enjoyed reading our article as much as we loved featuring some of the bed wallpaper décor ideas, since we've complimented an extra tip with a nightstand, if you wish to venture out best stool options for your home, do head over to our home décor section and give it a read.