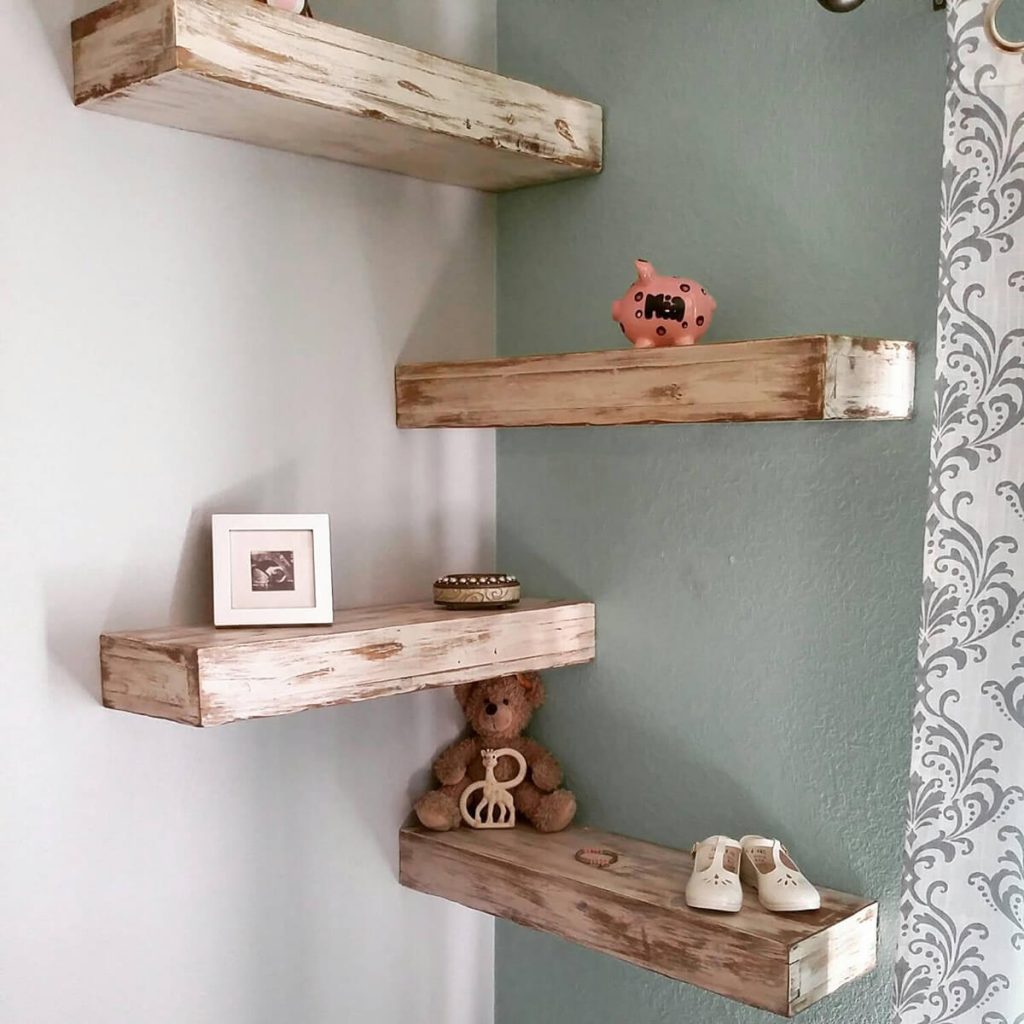 Corner Shelf Ideas: Corner spaces are difficult to work around with, the first thing that would spark an idea would be corner wall shelf DIY like a pro. There's bunch of wall self ideas for you to explore in this blog. There's not much you can put in there but even though the options are limited when it comes to interior design and decor, there are some great possibilities which are both practical and stylish.
There are plenty of ways to customise a basic corner shelf unit. You can even make it look like a rocket if you want to. It's not that hard. You first have to give it a suggestive shape and then you can also add a few finishing touches, like maybe a custom paint job or some custom decorations on the sides.
One example is the corner wall shelf which adds more storage to a space and also lets you display things on it. Today we're showing you a few of our favourite DIY corner shelf ideas in the hopes that they'll inspire you on your next home improvement project.
Floating Corner Shelf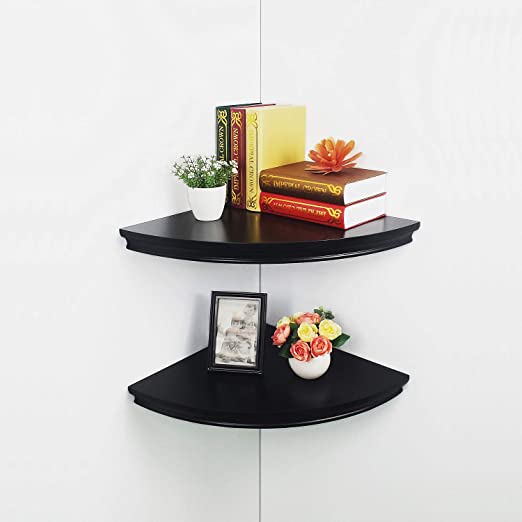 Floating corner shelves like the ones featured online are both good-looking and easy to make. As you can see, the shelves are pretty thick and solid and to get that look without actually using massive blocks of wood you need to first put together a frame for each shelf. This method also allows you to make secret storage spaces inside the shelves if you want to.
Also Read: Low Cost Interior Decorating Ideas for Your Home
Triangular Corner Shelf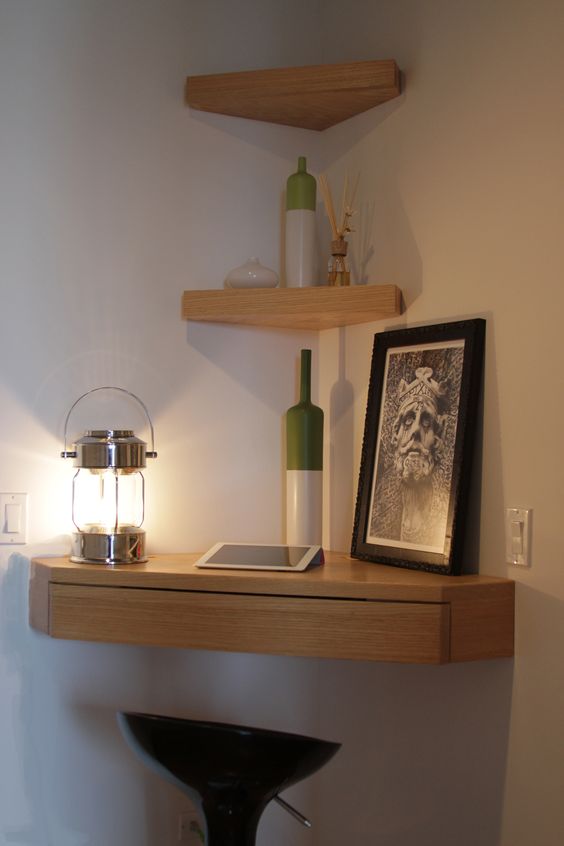 Triangular shelves fit perfectly in corners. They're great for hallways, entryways or pretty much any other space and there's an easy way to simplify their design so you can hide the mounting hardware inside the shelves.
Corner Door Shelf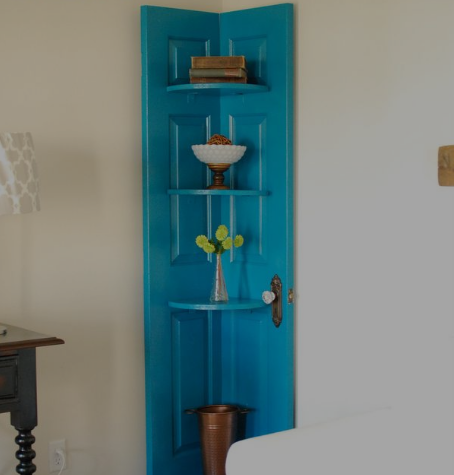 All DIY projects are unique but some stand out more than others. An example comes from craftaholics anonymous where you can find a tutorial showing you how to turn an old wooden door into a shelving unit for a tight corner space. You can leave the doorknob on if you want to. It can actually look good if the design is nice.
Also Read: 5 DIY Projects To Try During Quarantine
Corner Wood Cube Shelf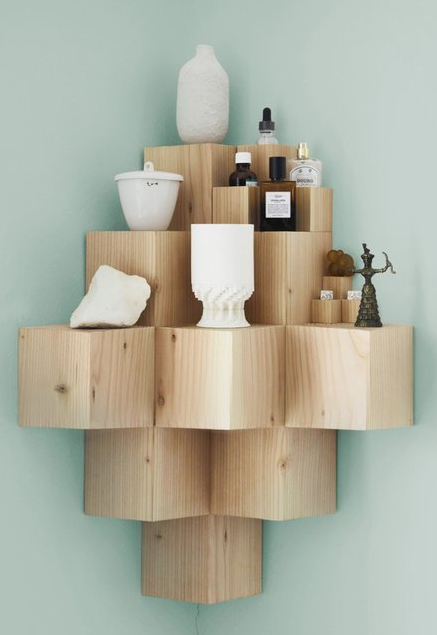 Instead of the regular flat shelf perhaps something a bit more eye-catching and consistent could suit your corner space better. A wood cube corner shelf seems like a pretty cool idea. This one has a symmetrical design and is not exactly difficult to build. In this particular case the design is more about looks than it is about functionality or storage-efficiency.
Kitchen wall shelf ideas are easy to navigate every inch of space in the kitchen and to maximise storage as much as possible. And kitchen is a great place to put corner shelves in. You can add corner shelves so you can store spices, dishes and other things close at hand or so you can keep herb planters close to the windows.
Also Read: Brilliant Window Seats Décor Ideas
A DIY corner wall shelf doesn't have to be perfect. In fact, nothing has to be perfect but in this case we actually a suggestion for how to make the most of a shelf's imperfections: try a live edge wood-inspired design like the one featured on instructables. Basically you just cut a piece of wood and you make the edge look intentionally imperfect.
There are ways to make corner shelf ideas look beautiful and interesting and to maximise their functionality at the same time. For example, you can install a few hooks on a shelf so you can also hang things in the corner, not just display objects on the shelf.
Shelves in general can serve a variety of different purposes so there's no reason to think that corner units would be any different. Let's say you want to build a planter stand that can fit in the corner of a room. Make the unit as tall as you want, based on how many plants you have.